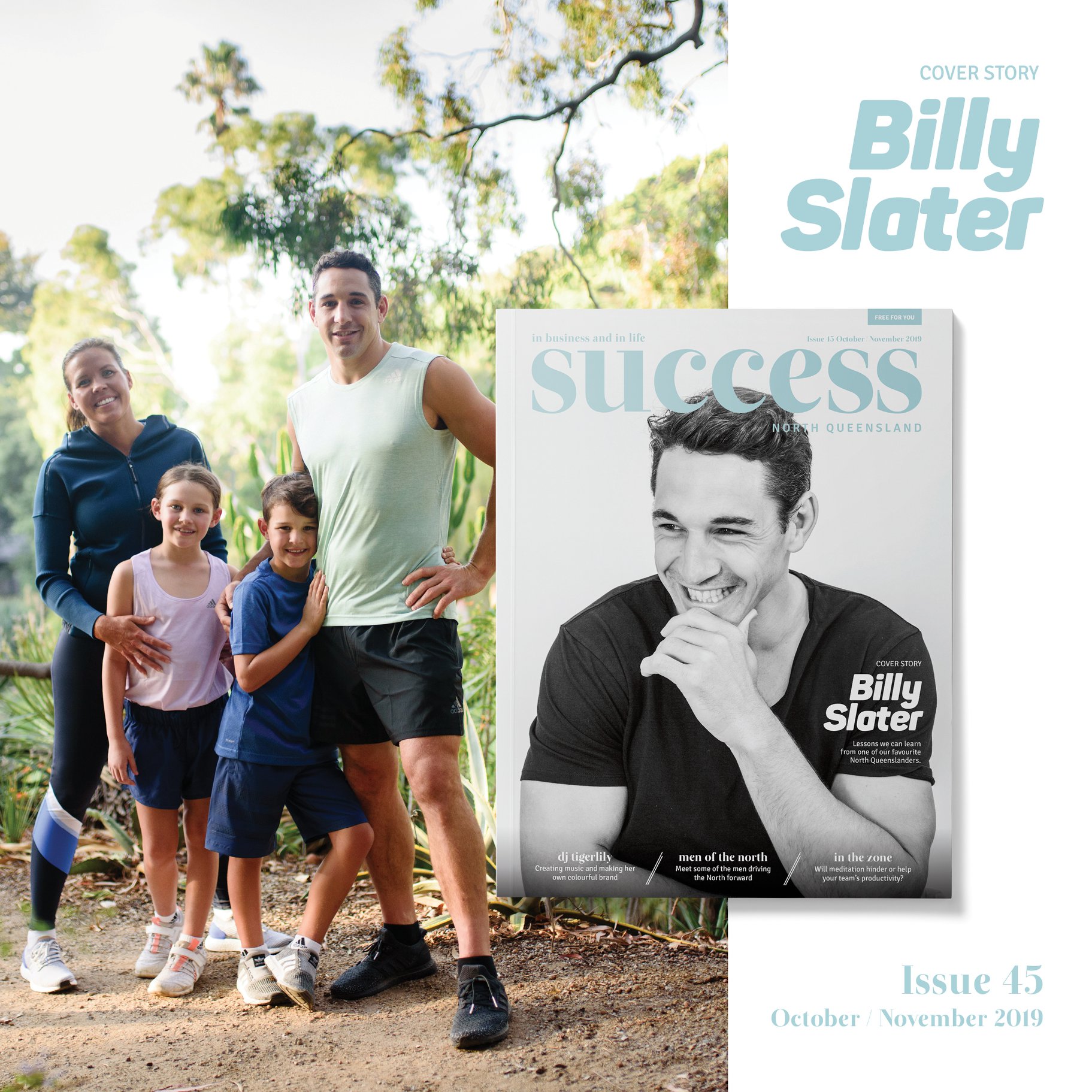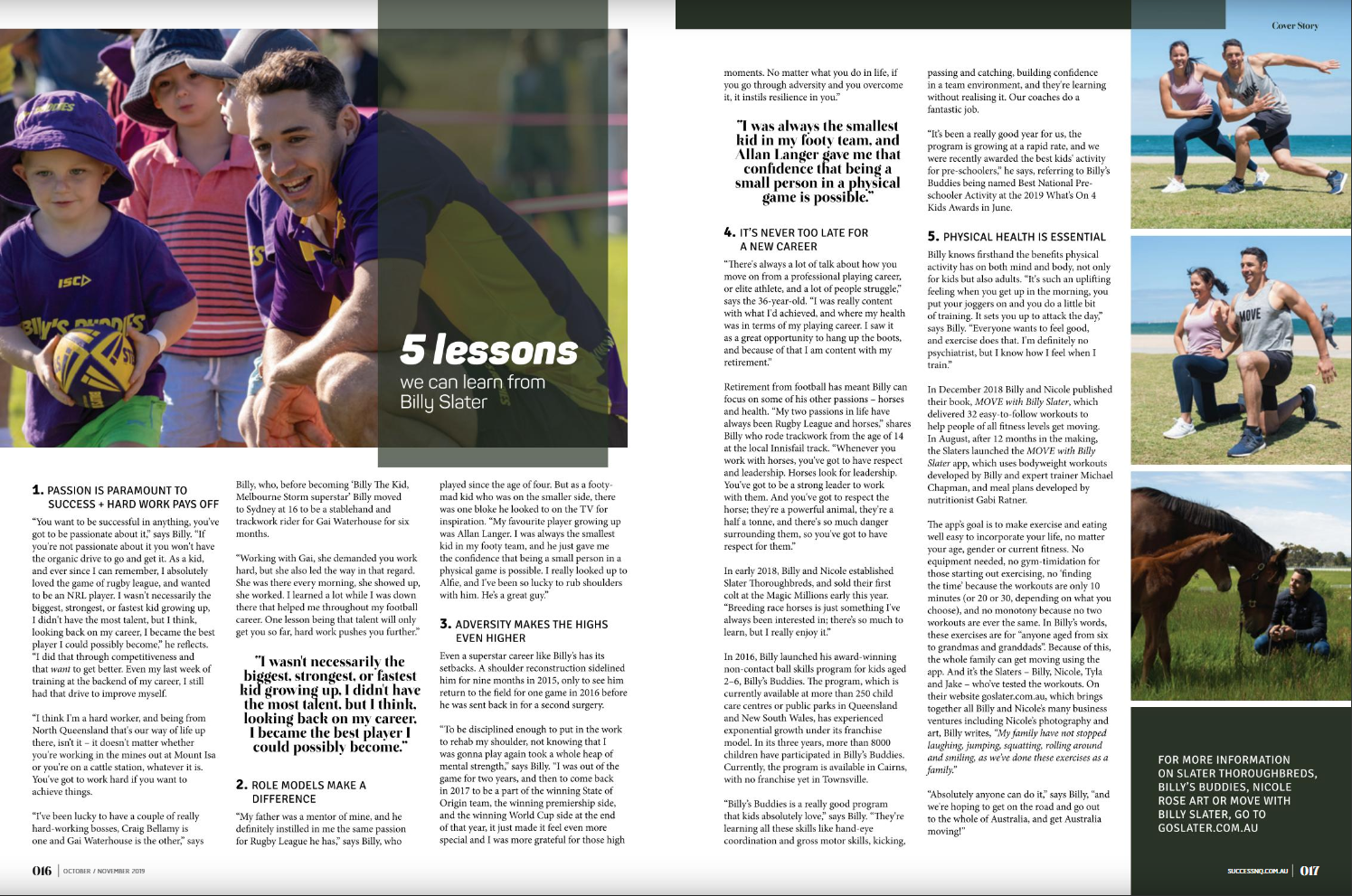 Billy Slater – Man on the move
He's the boy from Innisfail, one of the best fullbacks the NRL has ever seen, and by many accounts, a top bloke. But Billy Slater is so much more than rugby league. One year into his retirement, he's now an award-winning businessman, a thoroughbred breeder and has just launched a fitness app. Our editor, Marissa Candy, interviewed one of the north's most treasured men. These are lessons she learned from Billy.
Billy Slater is one of those success stories North Queenslanders tell with pride. He may not live here, he may not have played for our local club but we still lift him onto our shoulders as one of our own.
When talking with Billy about his career, his footy achievements and now his new businesses, certain things stand out. He's a worker, a doer, someone who's determined, who perseveres. Too small to play footy? Nah, Alfie Langer did it. Live too far away to get a shot at the big league? Nah, just a 20-hour drive from Innisfail to Brisbane Norths rugby club (a feeder club for Storm). A career-ending recurring shoulder injury? You just watch him come back, twice. There's much we can learn from Billy.
"No matter what you do in life, if you go through adversity and you overcome it, it instils resilience in you."
During his career he was loyal to Melbourne Storm, staying with the one club for his entire 16-year pro career. He played 319 NRL games in the purple jersey, and was part of two grand final wins (2012 and 2017), plus another two (2007 and 2009) that were stripped for Storm's salary cap breaches. He donned jerseys for Queensland and Australia, playing 30 Test Matches and 31 State of Origin games helping Queensland claim 11 Origin Series victories. His highlights reel is the length of a feature film, and his honours list includes Dally M Fullback of the Year (2008, 2011, 2017), Dally M Top Try Scorer (2005), Dally M Medal Player of the Year (2011); the prestigious Clive Churchill Medal (2009, 2017), Wally Lewis Medal for State of Origin (2010, 2018), Rugby League World Golden Boot Award (2008), and many other awards. Then, in August this year he was named as fullback in the Queensland Team of the Decade alongside NQ's own Johnathan Thurston and Jason Taumalolo.
The celebrated fullback retired at the end of the 2018 NRL season and has transitioned into life post-football with ease. Already with other interests and ventures in his sights, Billy has grown his fitness businesses, MOVE with Billy Slater and Billy's Buddies, as well as his thoroughbred breeding business, Slater Thoroughbreds, and still gets his NRL fix as commentator for Nine and as specialist coach for the Storm and assistant coach and mentor for the Maroons.
While Melbourne is home for Billy, his wife Nicole (who hails from Cairns) and their children, daughter Tyla and son Jake, Billy says Innisfail is where his passions for rugby league, horses and adventure were born. (And his parents Ron and Judy still live here in NQ.)
"Looking back at my childhood, I couldn't have asked for a better place to grow up than North Queensland; it's the weather, the activities right at your doorstep, the creeks, the rainforest, and the fishing in the reef," says Billy. "And then there's the horses! 
"Having that real sporting environment as well, centred around rugby league – I really had a terrific upbringing and I'm grateful that I grew up in Far North Queensland."
5 lessons we can learn from Billy Slater
1. Passion is paramount to success + hard work pays off
"You want to be successful in anything, you've got to be passionate about it," says Billy. "If you're not passionate about it you won't have the organic drive to go and get it. As a kid, and ever since I can remember, I absolutely loved the game of rugby league, and wanted to be an NRL player. I wasn't necessarily the biggest, strongest, or fastest kid growing up, I didn't have the most talent, but I think, looking back on my career, I became the best player I could possibly become," he reflects. "I did that through competitiveness and that want to get better. Even my last week of training at the backend of my career, I still had that drive to improve myself.
"I think I'm a hard worker, and being from North Queensland that's our way of life up there, isn't it – it doesn't matter whether you're working in the mines out at Mount Isa or you're on a cattle station, whatever it is. You've got to work hard if you want to
achieve things.
"I've been lucky to have a couple of really hard-working bosses, Craig Bellamy is one and Gai Waterhouse is the other," says Billy, who, before becoming 'Billy The Kid, Melbourne Storm superstar' Billy moved to Sydney at 16 to be a stablehand and trackwork rider for Gai Waterhouse for six months. 
"Working with Gai, she demanded you work hard, but she also led the way in that regard. She was there every morning, she showed up, she worked. I learned a lot while I was down there that helped me throughout my football career. One lesson being that talent will only get you so far, hard work pushes you further."
2. Role models make a difference
"My father was a mentor of mine, and he definitely instilled in me the same passion for Rugby League he has," says Billy, who played since the age of four. But as a footy-mad kid who was on the smaller side, there was one bloke he looked to on the TV for inspiration. "My favourite player growing up was Allan Langer. I was always the smallest kid in my footy team, and he just gave me the confidence that being a small person in a physical game is possible. I really looked up to Alfie, and I've been so lucky to rub shoulders with him. He's a great guy."
3. Adversity makes the highs even higher
Even a superstar career like Billy's has its setbacks. A shoulder reconstruction sidelined him for nine months in 2015, only to see him return to the field for one game in 2016 before he was sent back in for a second surgery.
"To be disciplined enough to put in the work to rehab my shoulder, not knowing that I was gonna play again took a whole heap of mental strength," says Billy. "I was out of the game for two years, and then to come back in 2017 to be a part of the winning State of Origin team, the winning premiership side, and the winning World Cup side at the end of that year, it just made it feel even more special and I was more grateful for those high moments. No matter what you do in life, if you go through adversity and you overcome it, it instils resilience in you."
4. It's never too late for a new career
"There's always a lot of talk about how you move on from a professional playing career, or elite athlete, and a lot of people struggle," says the 36-year-old. "I was really content with what I'd achieved, and where my health was in terms of my playing career. I saw it as a great opportunity to hang up the boots, and because of that I am content with my retirement."
Retirement from football has meant Billy can focus on some of his other passions – horses and health. "My two passions in life have always been Rugby League and horses," shares Billy who rode trackwork from the age of 14 at the local Innisfail track. "Whenever you work with horses, you've got to have respect and leadership. Horses look for leadership. You've got to be a strong leader to work with them. And you've got to respect the horse; they're a powerful animal, they're a half a tonne, and there's so much danger surrounding them, so you've got to have respect for them."
In early 2018, Billy and Nicole established Slater Thoroughbreds, and sold their first colt at the Magic Millions early this year. "Breeding race horses is just something I've always been interested in; there's so much to learn, but I really enjoy it."
In 2016, Billy launched his award-winning non-contact ball skills program for kids aged 2–6, Billy's Buddies. The program, which is currently available at more than 250 child care centres or public parks in Queensland and New South Wales, has experienced exponential growth under its franchise model. In its three years, more than 8000 children have participated in Billy's Buddies. Currently, the program is available in Cairns, with no franchise yet in Townsville.
"Billy's Buddies is a really good program that kids absolutely love," says Billy. "They're learning all these skills like hand-eye coordination and gross motor skills, kicking, passing and catching, building confidence in a team environment, and they're learning without realising it. Our coaches do a fantastic job.
"It's been a really good year for us, the program is growing at a rapid rate, and we were recently awarded the best kids' activity for pre-schoolers," he says, referring to Billy's Buddies being named Best National Pre-schooler Activity at the 2019 What's On 4 Kids Awards in June. 
5. Physical health is essential
Billy knows firsthand the benefits physical activity has on both mind and body, not only for kids but also adults. "It's such an uplifting feeling when you get up in the morning, you put your joggers on and you do a little bit of training. It sets you up to attack the day," says Billy. "Everyone wants to feel good, and exercise does that. I'm definitely no psychiatrist, but I know how I feel when I train."
In December 2018 Billy and Nicole published their book, MOVE with Billy Slater, which delivered 32 easy-to-follow workouts to help people of all fitness levels get moving. In August, after 12 months in the making, the Slaters launched the MOVE with Billy Slater app, which uses bodyweight workouts developed by Billy and expert trainer Michael Chapman, and meal plans developed by nutritionist Gabi Ratner.
The app's goal is to make exercise and eating well easy to incorporate your life, no matter your age, gender or current fitness. No equipment needed, no gym-timidation for those starting out exercising, no 'finding the time' because the workouts are only 10 minutes (or 20 or 30, depending on what you choose), and no monotony because no two workouts are ever the same. In Billy's words, these exercises are for "anyone aged from six to grandmas and granddads". Because of this, the whole family can get moving using the app. And it's the Slaters – Billy, Nicole, Tyla and Jake – who've tested the workouts. On their website goslater.com.au, which brings together all Billy and Nicole's many business ventures including Nicole's photography and art, Billy writes, "My family have not stopped laughing, jumping, squatting, rolling around and smiling, as we've done these exercises as a family."
"Absolutely anyone can do it," says Billy, "and we're hoping to get on the road and go out to the whole of Australia, and get Australia moving!"
For more information on Slater Thoroughbreds, Billy's Buddies, Nicole Rose Art or MOVE with Billy Slater, go to goslater.com.au
https://www.billysbuddies.com.au/wp-content/uploads/2019/10/71544094_2251939298267908_5704629262523301888_o.jpg
1823
1823
Billy's Buddies
https://www.billysbuddies.com.au/wp-content/uploads/2016/11/newlogo2016-1030x228.png
Billy's Buddies
2019-10-01 02:42:13
2019-10-01 03:03:30
Success North Queensland - Billy Slater Cover Story